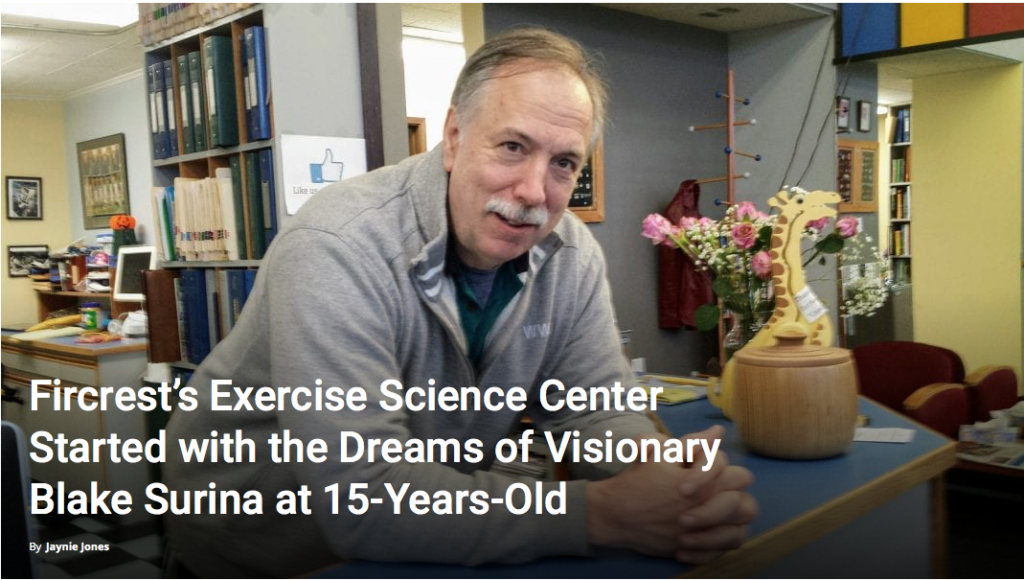 Blake Surina opened his own gym the Exercise Science Center (ESC) in the heart of Fircrest at 1101 Regents Boulevard in 1987.  He is an exercise physiologist.  He has patented the formulae for the Hydration Watch and has mind-boggling knowledge of allometric scaling.  His post-secondary degrees include cardiac rehabilitation, respiratory therapy and hospital administration as we as several other certifications.
Members at the Exercise Science Center undergo a one-on-one comprehensive assessment at the ESC with Blake – who is a renowned national award-winning athlete and trainer – when they join and then every two months thereafter to measure progress toward their goals. Those records are available for review year after year.
Western Washington named Blake their All-American Decathlete.  He won numerous regional and national titles in track and field, team handball, volleyball, Scottish highland games and racewalking.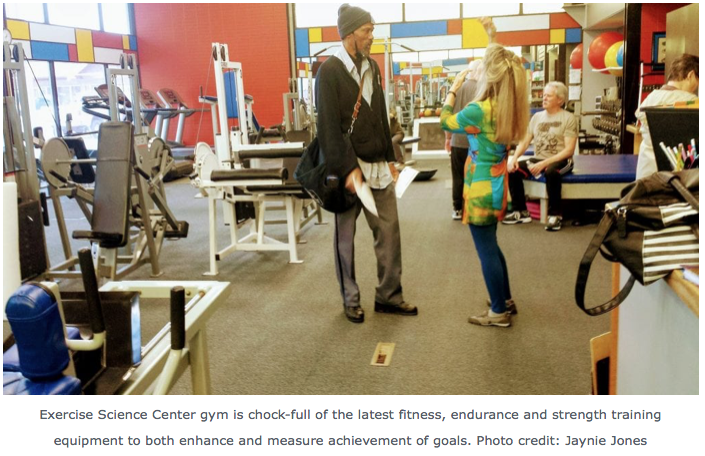 Law enforcement agencies, fire departments and public utility departments contract with the Exercise Science Center for Blake's expertise in testing and job candidates and employees for their fitness for duty both at time of hire and periodically and thereafter. Three-ring binders that are several inches thick contain the job descriptions for every position in each agency such as the City of Tacoma, Milton and many others throughout the region. Blake meticulously test all candidates and employees against those criteria.
"Our expertise, really, is how to make it fair for people," he says. "It's a really important part of why we do this. There's just too much inaccuracy in testing. There are people who are working harder and training harder and they're in better shape, but they're not being hired, because they (the departments/agencies) don't know how to test them properly. That's why I'm doing the testing."
Monthly membership at the ESC was $35 in 1987 and is still $35 in 2020.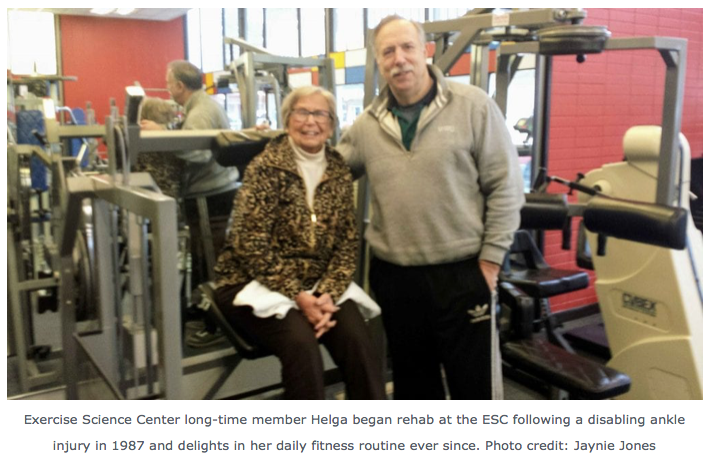 Who is Blake Surina?
It all started with Blake Surina and his incredible story. At 15, Blake was living alone in downtown Tacoma's Bostwick apartments, paying his own way with what he earned from his paper route and whatever else he could scrounge. He was grateful to have it, but most of all he was thankful for the peace and the sanity of having his own place.
He recalls the first night he was alone in his apartment in the stillness, savoring the quiet with clean, fresh air – and the clarity of a vision for his life path that came to him at that time: That he alone was responsible for himself and whatever he made of his life from that day forward.
Blake's parents married in their teens. They quickly had more children than they knew what to do with and their chaotic marriage ended in an acrimonious divorce. Blake and his two little sisters lived with their mother while his older brother went to live with their father. Blake's mother was ill-equipped to care for herself and even less so to nurture her children. Drinking and smoking permeated the home environment along with a stream of strangers coming and going. Blake pleaded with her to give up the alcohol that seemed to fuel the household chaos. She rebuffed his plea. Later in life she wrote a book documenting those painful details; he read some passages to me.
Blake's mother needed surgery. She expected the children to be her caregivers. She felt a sense of betrayal and abandonment when one of the little girls instead wanted to go and live with her dad. The situation devolved and all of the children were separated and sent away. Blake wound up at St. Ann's Orphanage a Catholic convent near Wapato Lake on the real estate market today for just under $5-million.
Blake empathetically says of his mother that, "She did the best that she could. She was simply overwhelmed."

Blake attended Tacoma Public Schools graduating from Jason Lee Middle School and then Stadium High School where he was honored as Athlete of the Year.
"The whole focus of my life was to take care of myself. I worked harder to get better. That required a measured effort. It all made sense. It didn't matter how I dressed or how much money I had. Life was fair in athletics." Blake quickly figured out that in sports, he could compete against any other student and, "All I had to do was train harder to be better."
Early in high school, Blake took a class that required him to write a paper about
"WHAT DO YOU WANT to DO with YOUR LIFE?"
As Blake told me about that paper, he walked over to a file cabinet and retrieved a couple of manila file folders, one with the original, meticulously hand-printed plan for his life. It spans several pages on notebook paper. The earnestness and passion are evident in every line recorded there.  A blueprint for his life and future business – the ESC.
He opened a second folder and fanned out the contents for me to see. It was his Stadium High School report cards. He was a straight A student.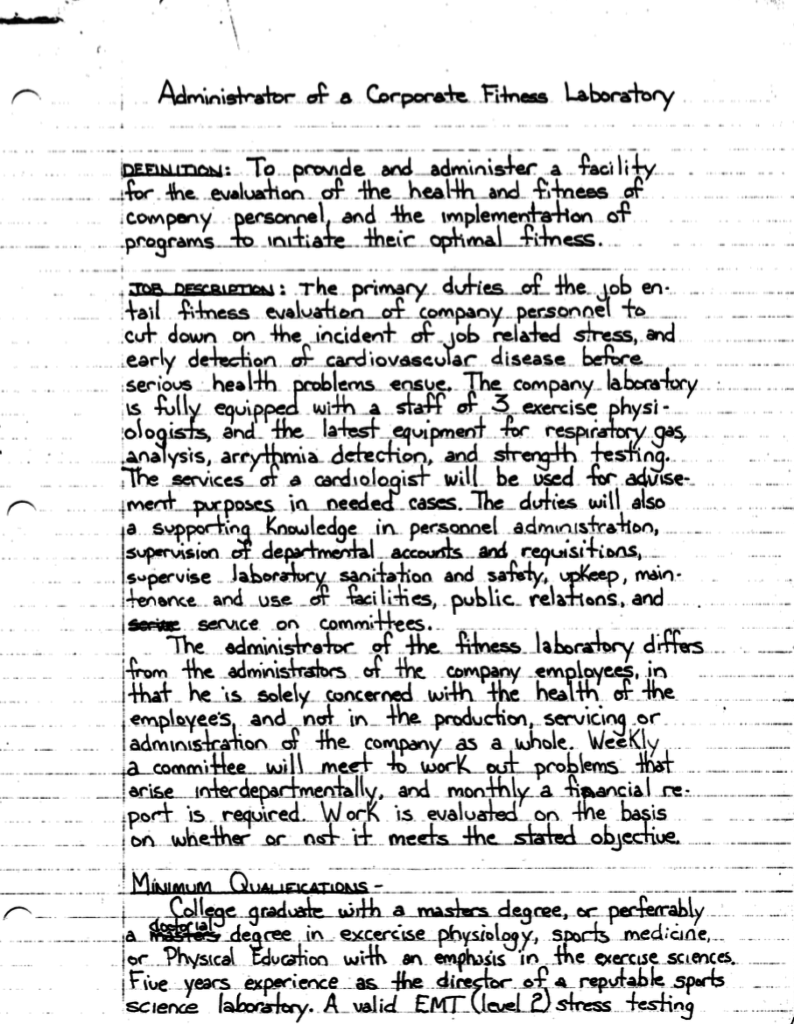 He had a clear vision for what life could be after emerging from the chaos of his early home life. He has never wavered from it. Alcohol, drugs and smoking have never had a place in his life…not that he never had any dust-ups with the law when he was in his teens and scrounging to survive on his own.
Blake's life focus is on sharing healthy living.
The Exercise Science Center has donated weight training equipment to the Tacoma Police Department and other agencies to help their officers stay in top condition. Blake enjoys the camaraderie with police officers and fire fighters as he has gotten to know them since 1987.
Blake is a former city council member in Fircrest. Planning for a new community center and outdoor pool are projects he is proud to have had a hand in bringing closer to fruition.
He is a mesmerizing public speaker who has made presentations before the Tacoma-Pierce County Chamber of Commerce and other civic groups.
Blake's knowledge of local history and lore is second to none. His quest to overcome adversity, embrace community and stay on track with the blueprint he plotted for his life when he was only 15 make Blake Surina someone you should know. He will inspire you and your kids.